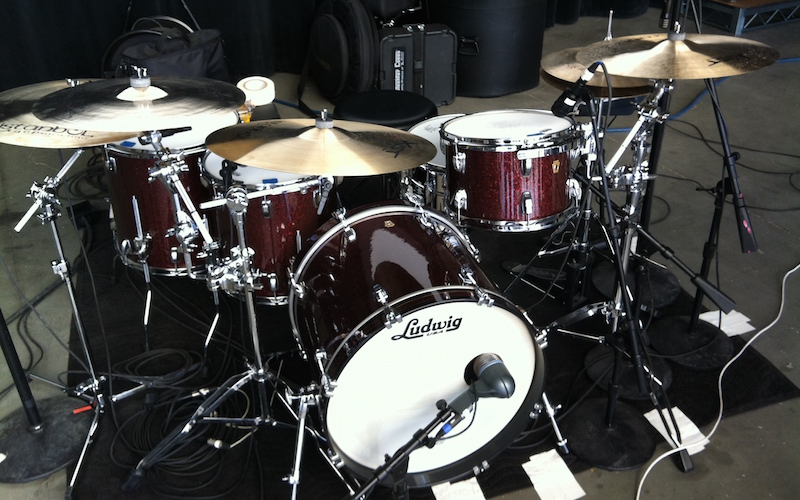 It isn't just about the gear.  It's about a belief.  A belief you have in yourself and a belief that a business has in you as a person, your abilities on your instrument, and your desire to be a positive ambassador of their brand.  It's also about a sound you envision.  When you can play the sound you hear in your head, that inspires in so many ways.  That's why an endorsement can be so affirming.  That's why my excitement hasn't abated one bit about the 'official' announcement of my relationship with Ludwig Drums.Endorsements are very funny things.  There are many perceptions about what they are.  The degree to which those perceptions are right or wrong is not my topic, and I'm sure I won't dispel any of those perceptions or myths.  I can only speak from my experience.  So, I will share with you what the endorsement relationships I have mean to me, and specifically (since quite a few people have asked) talk a little about how my official signing with Ludwig Drums came to be.
It's a 'Love Thing' First.
That is the key thing about endorsements.  It is, to a certain degree, a love affair.  If you are only looking to get free gear, then you are not only fooling yourself, but your making it hard for the next person that truly loves the gear to establish a meaningful relationship while you're hustling and then hawking stuff on Ebay at the first opportunity.
I LOVE Ludwig Drums because I started out playing Ludwig Drums.  My dad still plays and, at the time, had a lovely double bass kit of Ludwig Classics.  Mahogany Cortex.  One day I marched into his drum room at 4 years old and sat down.  I started swinging sticks at any and every available surface.  Mom and dad were watching, apparently looked at each other and said 'well, let's see where this goes.'
That was a good long time ago.  Clearly, I'm still swinging sticks at almost every available surface (though now my hope is that it sounds more musical and grooving).
It was the look of the drums that was so captivating.  Then the sound coming off of them.  You realize that it is YOU making that sound.  Making that sound while looking at these wonderful round things.
Know What You Love.
While the story began in my dad's drum room, it has countless chapters.  Growing up I studied Ludwig Drum history.  I asked questions of those that knew more than I did.  I wanted to know as much as I could about everything.  All through my schooling, Ludwig was the company whose gear occupied the band rooms I haunted.  The Ludwig kit I owned after using my dad's kit was a great Champagne Sparkle outfit that was gifted to me by my high school band teacher.  When I moved out to Los Angeles, that kit stayed behind for my brothers to use.
When I got out to L.A. and started gigging around town one of the many people I met and became friends with was Kevin Packard.  He's got a long history in the drum business, and those in the industry know that he is a good guy and is very talented in his own right.  He not only fronts a great power-pop group called Checkpoint Charley, he also plays drums for them when recording.  He's at Pearl Drums now, but before that he was A&R at Ludwig.  Our friendship goes back well over 15 years at this point.  He has seen me play countless times (including playing with his band on a few occasions when they would come through Los Angeles).  So it was after all of those years of conversations about all things drums, sharing the stage with each other, checking in on each other as our lives progressed outside of trade shows and dark rock clubs , that I went up to him as the 2011 NAMM show was winding down, screwed down my courage a bit and took a VERY bold step by saying:
"Hey.  What's it going to take for you guys to take a look at me as a potential endorser?  You know what I'm up to now.  You know how much I truly love the Ludwig brand.  You're saying 'Come Home to Ludwig' in your new ad campaign.  Give me a damn key to the house!"
Kevin just looked at me, smiled and said (roughly remembered); "Well, yeah!  Of course.  That makes perfect sense.  Let's do this!"
Before you think that was the end of it and I started getting a ton of free stuff.  Stop.  You're wrong.
I waited until a couple of weeks after NAMM, rang up Kevin again, made sure he was serious and it wasn't just the In-n-Out Burger talking, and then we started discussing what was on offer.  What I wanted to do for Ludwig.  What I hoped Ludwig could do for me.  At no point was the idea of free gear floated.  At no point did I inquire about free gear.
Why?
Because for me, if I want to endorse something: I'd better be willing to buy it. That's the biggest endorsement YOU can give as an artist. You're willing to buy the stuff you love.
So, I did.
The kit I wound up ordering (and paying for) is a beauty.  A Legacy Maple monster that you can find out more about on the gear page.  Around that time I also found an amazing Classic Maple kit from the early 90's in Sable Black Lacquer.  Small sizes too, as is my preference.  I dove in.  If I was now going to be flying the flag, I was doing to fly that damn flag!  I bought the black kit, ordered the Legacy kit, and then I cut loose the kit I had (a lovely and massive set of DW Collector Maples) to a dear buddy of mine along with a few other snares and miscellaneous stuff I had and committed to really be onboard.  I've not regretted it once.
There's that love thing I was talking about.
Now, in all of this, there was no paperwork signed.  Kevin and I had a handshake agreement.  These are very common within the music merchandising world.  It worked, but it wasn't truly what I wanted.
Once Kevin left Ludwig (he's now with Pearl), he put me in contact with Uli Salazar.  Uli has not only spent time as a Ludwig employee actually making the drums, but he also is an accomplished drum restorer in his own right, and he can throw down with the best of them.  His band is a pretty crushing unit called Marmora.  He's made his way up the ranks from drum builder to A&R, and now is the head of Marketing.
Uli and I talked and we kept the relationship the same place it was.  Handshake agreement.  Uli generously said 'tell me what you're up to, what you need, and we'll make it happen.'  It was wonderful to continue to have the commitment I had.  But it still wasn't truly what I wanted.
What I wanted was to be able to sign paper.  Like I did with Vater.  Like I did with Remo.  Like I did with Istanbul Agop.  To me, that feels like a different kind of commitment is being made.  It feels like there is something more tangible.
Feeling the Love.
Fast forward a couple of years and I make the acquaintance of Mike Nieland.  Not only is his pedigree in the drum business peerless, he is also a really great drummer who is in (amongst other things) a fantastic Police tribute band called The Police Experience and a Rush tribute band called Visions.  He is also now the West Coast Key Accounts Manager for Ludwig.  We have a gang of mutual friends (are you starting to see a pattern here?), he had heard about me through some very kind words offered by mutual friends and so I reached out to him.  When we started talking, he asked me what I was up to currently (… gigs with Deana Carter, Denny Laine, and Michael Nesmith as well as a host of session work), and then he asked me what I was looking for.  I said "I'm not looking for free gear.  I have plenty of it anyway.  I have Ludwig as my first choice on all of my riders.  It is what I use and ask for and I've been considered an artist since 2011 in handshake terms.  What I want is to sign paper.  I want to make Ludwig official."  He said "I'll put you in contact with Ryan and let's see what happens."
The Ryan he was talking about is Ryan Juravic.  The new A&R guy at Ludwig.  He, like Uli, is heavy into the vintage thing and worked for a time at Vic's Drum Shop in Chicago (a true mecca of drum when it was around).  He knows his stuff.
We talked a few times via email and at this point we seem to be developing a really good rapport.  He was interested in what I had (and have) going on and felt that given the time spent so far as a 'handshake' artist, my love of the product, and my desire to be an active ambassador for that product, he wanted to get me onboard officially.  So, paper work showed up.  I signed it and sent it back.
Then what?
The sky didn't open up shining rays of sunlight on me.  I didn't get a pile of drums shipped to my door gratis.  I didn't get my name in any publications about now being signed.
What I had was a feeling of happiness that I used my ears to make a decision on what I wanted my sound to be and I stuck with it.  What I felt was lucky that I was able to meet the people that I did when I did and that I could cultivate the relationships/friendships as I did.  What I felt was a satisfaction that I was able to show myself to be someone who cared about the product:  not about getting free stuff.  I also felt really grateful that the company whose drums I fell in love with so many years ago that believed in what they heard in me – from behind and in front of the kit.
Ryan and I got to meet officially at NAMM this year and he was very kind (along with Mike Nieland) to spend a bunch of time with me as we talked about the new gear on display, what we were all up to musically, how we could all use a coffee OR a beer at that point in the show, and what our plans were for the rest of the year.  For me it includes a bunch of dates with Deana Carter over the summer, some more stuff with Michael Nesmith in the fall, a ton of sessions all over Los Angeles, some mentoring at USC, and whatever else seems reasonable to say yes to as the year progresses.  That conversation wasn't about what I expected to get from the company or what I wanted.  It was about getting to know my points of contact at the company face to face, finding out what was new in the booth, and asking questions so I could begin to speak intelligently about it all post-show.  I walked away knowing more about the gear than I did when I walked in the exhibition hall.  I also got to hang with two very fine cats and enjoy some quality time – despite the noise and chaos that seems to always accompany NAMM.
Where's the Love Now?
Whenever I walk into a studio session or live gig there are certain things that are guaranteed.  If there's a house kit – I'm bringing at least a couple of Ludwig snare drums, Istanbul Agop Cymbals, Remo Drumheads, Vater Drumsticks, and Canopus Accessories.  If I'm bringing a full kit – it's everything you read above AND it's going to be one of my Ludwig kits (the Legacy Maple, the Classic Maple, my '66 BDP's, my Questlove Breakbeat kit, or my soon to be delivered Mahogany Club Date kit in Black Galaxy).
I ALWAYS get compliments about the look of the gear AND the sound of it.
It's just like when I first started.  Staring at what you're playing on and what you're doing.  It's honest.  It is, perhaps, a bit nostalgic as well.
That feedback I receive though is also a reminder that I stuck to my guns.  I had a sound in my head and a desire to claim that sound.  I showed (and show) an active interest in being an advocate for a brand.  I developed my communication skills on and off the kit – something I continue to do.  Further, my desire to be a decent person who is easy to get along with afforded me opportunities to meet people within the industry that took notice and have been willing to help me at various points through my career up to this point.  My job is to keep doing what I'm doing and get better at all of it.  It is these things a many others beyond that enabled me to put a little signature on a couple of pieces of paper.  That act did feed my ego a little bit.  I won't lie.  But, that act also offered a professional validation – a flipside of a coin (the other side of which being the validation I've received past and present for what I do from my peers and family) that really matters to me.  That is why I'm so honored to be a Ludwig Drum artist.  And, why I'm so honored to have all of the professional relationships I have.
Love Takes Many Forms (Sweet Somethings…)
I will be the first to admit that Ludwig is NOT the only drum company I have in my arsenal of gear. It is, however, the VAST majority of my gear. This is very common amongst professional drummers (and every musician, when you get right down to it) that endorses a company's gear. Everyone I personally know has gear other than their listed endorsements. That said, in every tour situation, TV date, Award Show, etc… I always ask for (and expect) to get Ludwig. When I'm playing around town using my gear – it's a Ludwig kit.
My non-Ludwig gear is made by drum makers doing something wonderfully sublime and sonically different from the offerings that Ludwig has currently. I will list them for you as well because I love what they do. You should check them out.
Sugar Percussion, Dunnett, George Way, Keplinger, Tempus (gone, but not forgotten).
I hope you enjoyed this post and that you continue to enjoy your adventures behind the kit and within music. It's the best thing there is. Dig?