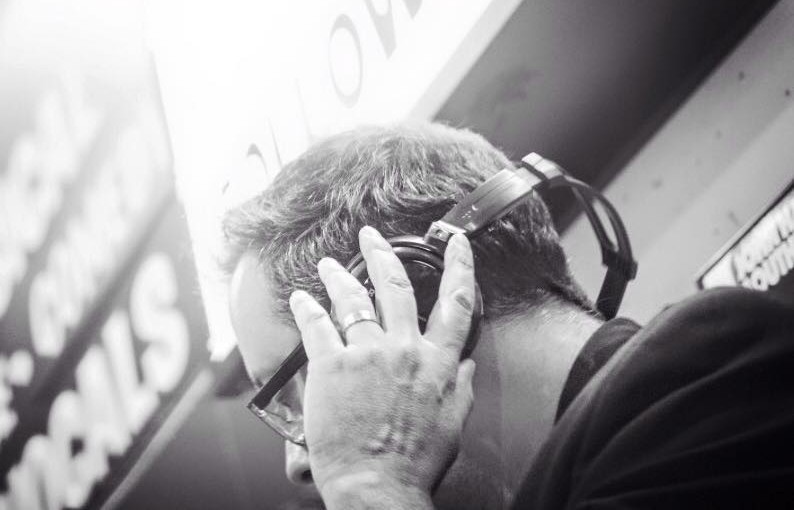 So, I was recently asked by my buddy Morgan Young to curate a set of music at the one and only, Amoeba Records.  It was part of an ongoing series the store has called 'Rotations' (pretty much every Friday night from about 8-9:30pm).
The pitch was this:  let's get some pro-level drummers to spin stuff out of their own collections.  No holds barred.  No limitations.  No boxes.  Just spin what you want.
So, I (along with Michael Iveson, Jason Sutter, and Matt Starr) said 'Sure!'  We each took a Friday in February.
It was one of the most nerve-racking and fun gigs I've ever done.
Imagine taking all of the timing and coordination you have developed on the drum set, and then apply it (standing up) on what is (essentially) a 2 piece drum kit (the turntables).  Yes, that's right Virginia; I spun all vinyl.
In coming up with a playlist for something like this I had specific goals in mind.  I wanted to show breadth.  It wasn't all going to be jazz (admittedly, my first musical love) nor would it be all heavy or poppy or groovy or whatever other 'y' you can think of.  I wanted to throw a couple of curve balls into the mix as well.  That could be by pulling a deep cut off of an album of a well known band…or it could just be a weird track period.  I wanted to consider who might be listening.  I never want to dumb down what I do behind the kit:  so I applied that to the 'wheels of steel' as well.
So:  breadth, some fun curve balls, and…
Flow!
Yes, flow.  Think about when you're playing a set with an artist or seeing a band play.  Think about how you feel differently at various points of the set?  How they start with something to wake you up and then, as the set progresses it rises and falls?  Like a breath.  The same kind of consideration goes into a DJ set as well (or at least it does for me)!
So with all of those things as my guide posts, here's what I came up with:
Good Old Funky Music – The Meters
How Low Can A Punk Get – Bad Brains
Sure Shot – Beastie Boys
Games Without Frontiers – Peter Gabriel
Beltway Bandits – Frank Zappa
The Man Who Sailed Around His Soul – XTC
Messenger – Blonde Redhead
Joining A Fan Club – Jellyfish
All I Need – Radiohead
Tomorrow Never Knows – The Beatles
Limo Wreck – Soundgarden
Patron Saint of Girls – Brian Blade Fellowship
A Secret Life – David Byrne/Brian Eno
Whatever Happened to Gus – Medeski, Martin, Wood
Battle For Britain (The Letter) – David Bowie
Enjoy – Bjork
One Mo' Gin – D'Angelo
Man With An Open Heart – King Crimson
Two Rings – Ice Choir
DISKPREPT4 – Aphex Twin
Ice Cream Eyes – The Life and Times
Ars Moriendi – Mr. Bungle
Changeling/Transmission 1 – DJ Shadow
A little something for everyone and A LOT of fun for me.
I can't wait for the next one (yes, there will be a next one!)