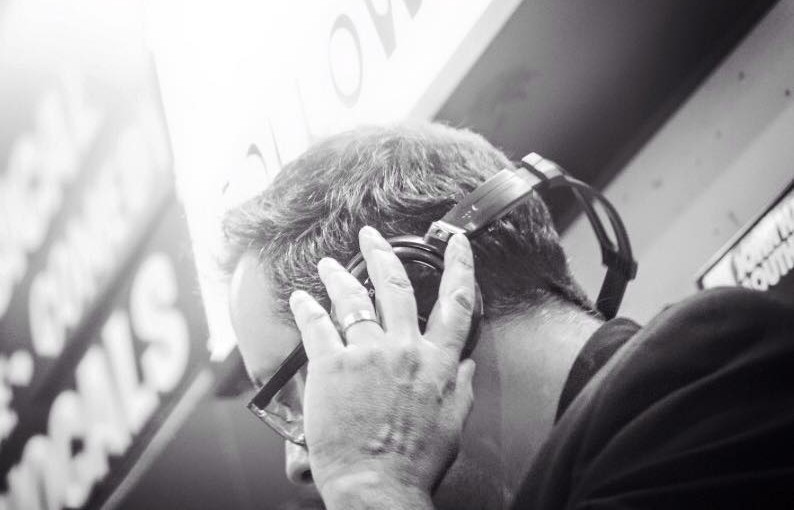 I like to ask friends what they are listening to when we hang out.  It's definitely become a thing for me.  I love the wide range of answers that I get and I often times come away with more than a few cool options to check out.  So, I thought I would share some of the nuggets I've been checking out recently with you, good reader.  Maybe some of the descriptions will get you intrigued enough to check some of the releases out yourself.  That is my sincere hope.  So, read on and enjoy!  (Note:  you'll see a trend in format purchased).
The Cellar and Point – Ambit
This is a 2014 recording that came out on Cuneiform Records.  The label, long a welcome home for more left of center and experimental music including Mats/Morgan and Bent Knee, has definitely found a wonderful new resident in The Cellar and Point.  Led by Joseph Branciforte and Christopher Botta, this an adventurous release that brings together a world class cross-section of some of New York's finest.  Their compositions include these wonderful interweaving ensemble lines and figures split between guitars, banjo, vibraphone, and strings.  The album is beautifully recorded and if I had one complaint, it would be that it's not long enough!  Once I started listening to the album, I went and checked out some live Youtube recordings and they definitely can do it live.  No studio trickery here.  Stand out tracks include "white cylinder a" and "arc" (the former you can see a cool 'performance' video on their website).  For folks that enjoy Kneebody, Bad Plus, Nel Cline Singers, et al. I think you might enjoy this debut release.  I look forward to hearing what this group has to offer in the future.  I downloaded this off of the Emusic subscription site.
David Bowie – Blackstar
You'll forgive me if this is coming up.  It has been getting a lot of rotation – not because Mr. Bowie is no longer with us – but because it's a damn fine collection that carries on the tradition he started from his very first album:  not resting on what he had done before.  With a backing band that included Mark Giuliana, Tim LeFebvre, and Jason Linder; these songs go from the tough and aggressive "Sue (Or In a Season of Crime)" and "'Tis A Pity She Was a Whore" to the gentle and brooding "Lazarus" and "Dollar Days".  The album's opener and closer "Blackstar" and "I Can't Give Everything Away" though really frame these 7 songs for what this album was – a goodbye letter.  The vacuum left by David Bowie's passing will not soon be filled (if ever).  This was a parting shot from a singular artist and it shows from the first note to the last.  I bought this on vinyl (limited edition clear and regular black) and got a download card.
Guy Garvey – Courting the Squall
Lead singer and songwriter for Elbow; Guy Garvey has ventured out with his first solo album and continues the well established track he's created for lush imagery, inventive arrangements, and space to let the vocals surround you.  The jazz influenced "Electricity" is a wonderful smoldering track, while the last track "Three Bells" seems almost a meditation.  It never gets much above a gentle whisper.  That's why it (and all of the tracks on this album) are so effective and affecting.  He also has a great group of musicians around him that help see these musical journeys through with a wonderful transparency.  The songs shine here – not Guy Garvey or the instruments.  It makes me equally excited for the next Elbow release, as well as, Guy's next solo outing.  I picked this up on vinyl and got a download card with it.
Tyondai Braxton – Hive1
Former guitarist and vocalist for Battles and son of famed avant-garde composer and improviser Anthony Braxton; Tyondai's new album is a unique mix of electronic elements and soundscapes.  The album's eight pieces were originally composed for a performance work called HIVE that debuted at New York's Guggenheim Museum in 2013.  It was released as an album in 2015 on Nonesuch Records.  It has a cinematic quality to it with the benefit of not needing to follow a specific narrative line.  You can listen to the album in prescribed order and get one experience.  You can listen to it again on random and get a very different experience.  I would be interested to see how Braxton recreates these soundscapes live – would it be just him manipulating sounds?  Or, would he have collaborators on stage to add to the framework already suggested by these pieces?  I hope I get that opportunity.  This was offered on Nonesuch as a vinyl release with a download card.  That's the option I bought.
Low – Ones and Sixes
Anyone that knows me, knows how much I enjoy the band Low.  Ones and Sixes was released in 2015 and continues on the tradition on minimal instrumentation, tight vocal harmonies, and great song writing.  The relentless groove and forward motion of "No Comprende" takes a sharp turn after the second chorus and goes to a sludgy half time feel for the rest of the song.  It's initially jarring but very effective.  This contrasts sharply with a song like "No End" – with its Beach Boy type vocals and swirling reverb.  I think my favorite track is "Kid in the Corner".  Again you have a very forward moving groove – this time from a lone 4 on the floor bass drum – along with a chunking rhythm guitar and the bass carries a lot of the harmonic movement in the song.  A few synth swirls here and there and you have another very effective and moving track.  The album is consistent from start to finish and another great addition to discography of well over 20 releases.  I picked this up on vinyl (with included download card).
Lucinda Williams – The Ghosts of Highway 20
I will admit, I was all but completely unfamiliar with Lucinda Williams' music until a couple of years ago.  At that time realized that my friends Butch Norton (drums) and David Sutton (bass) were playing with her and that's when I started checking some of her stuff out.  Lucinda's voice and delivery are unlike very many in modern rock music.  There's a quality there that tells you a lot of life has been lived and a lot of fight has been fought.  It howls often, but even when quiet, there is a grit to her voice.
Butch had mentioned in conversation a while ago about an album that was going to be coming out with Lucinda, Butch, David, Bill Frisell, and Greg Liesz.  I was immediately intrigued being such a big fan of both Frisell and Liesz.  This was my first foray into any of Lucinda's music (I bought the vinyl which included a download code) – and it is a great way to start.  The musicians do such a wonderful job of supporting Lucinda's unique voice, vocal delivery, and songs.  Stand out tracks for me include "Doors of Heaven" (a laconic blues) and "If There's A Heaven" (which sounds like it could be a Tom Waits song).  If you're not familiar with her stuff, I'd recommend it.  I'm starting to dig into the rest of her catalogue and it's vast.  Her 35 year career is firmly built on deeply personal songs and this 14 song collection carries the tradition on with a great band that paints as it grooves.
King Buffalo – Orion
They describe themselves as:  Psychedelic / Desert / Stoner / Heavy Blues Rock.  I agree.  I love it.  This trio calls Rochester, NY home.  It's just down the road from where I grew up (Syracuse).  There's a large blues and classic rock influence that has always been prevalent around Central New York and King Buffalo is certainly cut from that same cloth.  But, there's a lot more going on.  Their songs are more sprawling.  They take their time.  There are no real up-tempo numbers.  The fastest track, "Kerosene" is only 148 bpm.  Everything is medium to slow tempo and they feel luxurious.  The songs don't drag though.  You get wrapped up on this swirling psychedelic trip and then it's done before you know it.  I'm really a big fan of the opening/title track "Orion".  The riff is immense on this one and the groove has a great swing to it.   "Kerosene" take a great rhythmic turn and plays shifts riffs for a pretty epic finish.  I also love "Down From Sky".  A mellow acoustic guitar driven song that doesn't even see the rest of the band come in until 2/3 through the song.  It's so effective to have the song be so sparse until the outro.  The album also sounds really good.  They took a lot of care in mixing and mastering.  It sounds great on vinyl (which is the format I got, along with a download code).  If you're a fan of Queens of the Stone Age, Kyuss, Mastodon, Pink Floyd, YOB, etc… I think you may like King Buffalo. 
Radiohead – Moon Shaped Pool
From the first string stabs and angular rhythm of "Burn the Witch" to the Thom Yorke's pleading 'don't leave… don't leave' at the end of "True Love Waits", this feels like a different Radiohead album than any previous.  It feels the most human of any of them – even as fairly constant back drop of loops and synthesized sounds churn along.  I felt moments like this at times on "In Rainbows" as well, but this feels like the most open I've ever heard the band.  The album feels less cynical, less like it is looking through you.  Now the band and the music are looking at you.  Sharing with you the fact that what they see and feel are very much the same things that you and I see and feel.  An example would be "The Numbers" (where the environment: a long standing concern/cause for the group, comes to the fore).  It feels incredibly cinematic in its treatment.  Having watched the videos for "Burn the Witch" and "Daydreaming" several times before listening to the full album (I waited to listen through until the double vinyl album arrived the other day); "Daydreaming" in particular got to me – visually and sonically.  I feel a sense of surrender in that song that really affected me.   The video of same said song, walking through endless doors, finally coming to rest in a cave… almost feels like here, for the first time, is a chance to rest.  To simply be, instead of unsuccessfully trying to push away expectations placed on you for years and years.  I think this is the album where Radiohead have once again have broken free of the expectations fans and business alike have heaped on them (like they were able to with OK Computer).  This album succeeds as one of their most personal sounding efforts to date.  It says, 'this is who we are.  who are you?'
I hope you enjoyed it.  For now, listen well, and let me know what you think and what YOU are checking out!  Drop a line!  Dig?