Bio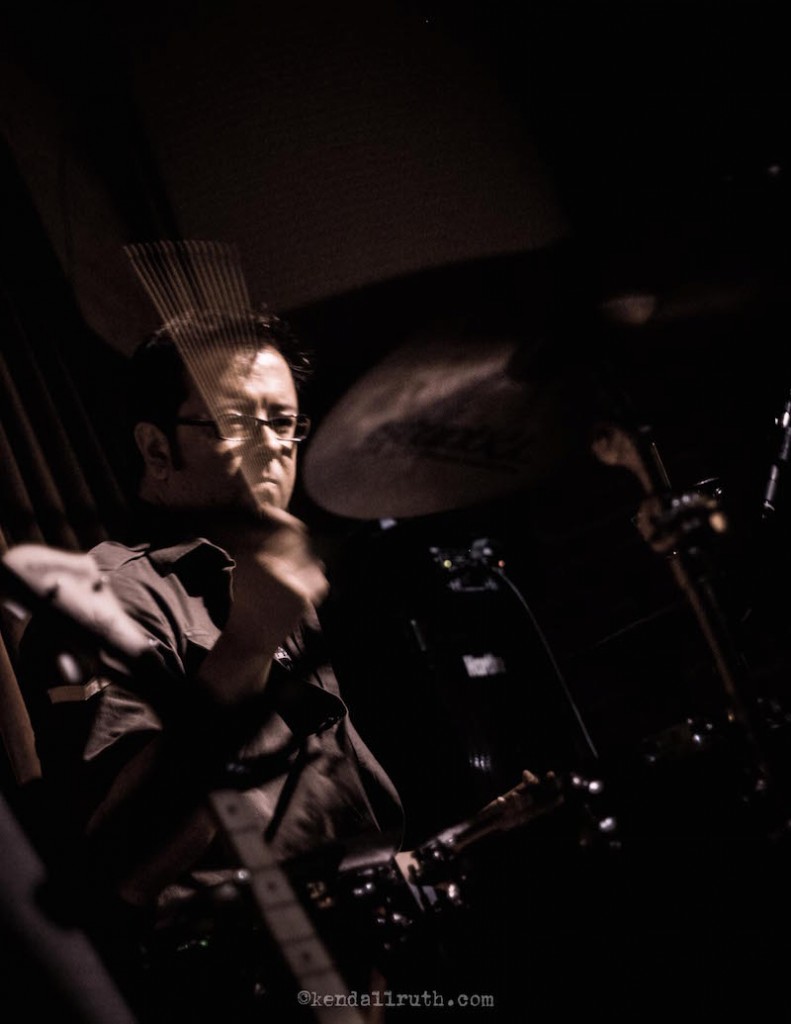 Christopher Allis is a drummer/percussionist from Los Angeles, CA skilled in live work, studio sessions, and remote drum tracking.
Having a father who is a drummer and percussionist and a mother who sings and acts has its advantages. Christopher grew up being exposed to everything from Frank Zappa and Igor Stravinsky, to King Crimson, The Who, Weather Report, The Beatles, and Mahavishnu Orchestra.  By the age of 4 or 5, the budding drummer showed enough interest to have his dad show him some basics.  "I would play along to records at first and I just got more and more into it.  At first, it was just fun.  But, I remember points early on when I knew I found exactly what I wanted to be doing.  Music hit me so deeply.  It really wove itself through me.  I feel really lost without it now."
Throughout his formative years; school concert bands, show bands, and jazz ensembles occupied most of his time.  He was also able to study with some of the best drummers in the area (including Frank Briggs and Jimmy Johns), and sit in with local rock and jazz groups.  It wasn't long before he began getting his own calls for gigs.  With his diverse musical background (he has experience in rock, jazz, ska, reggae, funk, blues, r&b, folk, middle eastern, and traditional Greek music), he was able to participate in several great bands throughout the Syracuse area including Zoo Trip, (Moon Records artist) Too Hectic, and the critically acclaimed and highly regarded Heavy Metal Be-Bop.
With all of these experiences under his belt, Christopher made the decision to relocate to Los Angeles in order to gain a new perspective and immerse himself in a different musical environment.
Since arriving he has landed a variety of gigs and has been making a name for himself as a chameleon who is comfortable and confident in pretty much any situation.
Christopher splits his time up among a variety of artists including Michael Nesmith (as part of his First National Band), Peter Asher, Deana Carter, Denny Laine, Emily Zuzik, Seven Saturdays, Amilia K. Spicer, TJ Stafford, Michael 'Smidi' Smith, Circe Link, Steuart Liebig, and Jacob Szekely, among others.
Christopher has worked with producers including Michael 'Smidi' Smith (Gorgio Moroder, Ke$ha, Mozella, Tyrone Wells), Mike Butler (Lynda Kay, Box Masters, Freddie and Francine), Guy Moon (composer for 'Fairly Odd Parents', 'Ren & Stimpy', and owner of Moon People Music), Russell Pope (Supertramp), Hank Linderman (Joni Mitchell, Timothy B. Schmidt, America), Meghan Toohey (Weepies), David Bowick (Amy LaCour, Villains for Vixens), Jon Mattox (Rob Halford, Days Between Stations, Riptide Music), and Aaron Tap (Matthew Nathanson, Jesse Macht).
The 90-plus album recording performance credits he has under his belt are based on a variety of factors including his "vast knowledge of sounds and styles" (Guy Moon), and an "impeccable time, feel, tone, and taste, overall musicality, creativity, and positive energy" (Mike Butler).
His road experiences include regional club and theatre shows, national theatre tour engagements, and international tours to Canada, Mexico, Barbados, and Portugal).
Christopher is also active doing commercial and jingle work.  He has lent his talents for TV spots for Coca-Cola, Discovery Channel, Hanes, Vaseline Intensive Care Lotion, and Expedia.  His playing can also be heard a variety of commercial music for shows including "Smash", "The Voice", "True Blood", "Sons of Anarchy", "Buffy The Vampire Slayer", and a variety of children and young adult shows on ABC, ABC Family, Nickelodeon, and the Disney Channel.  Film music includes "Planes – Fire and Rescue", "The Hills Have Eyes", and overdub sessions for the James Bond films "Gold Finger", "The Man With the Golden Gun", and "Dr. No".
He has also entered into the world of academia as a special guest lecturer at the USC Thornton School of Music where we works with production classes to discuss and demonstrate modern studio drumming techniques.
When asked about where he feels he is as a musician, it's apparent that Christopher strives to always continue learning:  "I enjoying taking lessons when I can and love to do the hang with other drummers.  It helps me to grow and focus on moving forward."  He continues,  "I've been spending a lot of time honing all of the skills and ideas I've developed in the rehearsal room, in the studio, and on the stage.  My interests are in continuing to progress as a drummer and overall musician.  I've gained a lot of knowledge and experience by being out here and it's very inspiring to know I can carve a niche for myself in this music scene.  I know that there is a lot here for me musically."
Some of the drummers Christopher looks to for inspiration include:  Elvin Jones, Vinnie Colaiuta, Brian Blade, Chad Wackerman, Zach Danzinger, Joey Baron, Mark Giuliana, Jojo Mayer, Joe Travers, Billy Martin, Jim Keltner, Bill Bruford, Matt Chamberlain, Billy Ward, Pat Mastelotto, and Alex Cline (among countless others).  But says the drummer; it's not just about focusing on drums.  It's about focusing on music:  "I've learned to focus on what's happening within the music as a whole and see how the drumming fits into that overall picture.  One of the things I learned early on was always listen to and experience as much as you can and learn from it all.  That sums it up for me.  The whole point is to grow and evolve as a musician.  It's all a process – a journey.  I'm glad I'm on it."
Christopher is proud to use and endorse:
Ludwig drums
Istanbul Agop Cymbals
Remo Drum Heads
Vater drumsticks
Canopus Snare Wires and Accessories
Big Fat Snare Drum
Snare Weight
SKB Cases
Yamaha DTX Electronic Drums
Toontrack software
BAE Audio outboard gear
Mojave Audio microphones